The Committee to Protect Journalists said the criminal investigations against reporter Mark Aron in the central Russian region of Mari-El, and Arseny Makhlov in the Baltic exclave of Kaliningrad were being carried out at what the group termed "a politically sensitive time" -- before local and regional elections.
In a statement, the committee said prosecutors had started a libel investigation against Aron, editor in chief of the newspaper "Vo," following a 2004 article that said a local official participated in a drunken brawl.
It also said that Makhlov, founder of the weekly newspaper "Dvornik," had been targeted in a libel investigation in what Makhlov alleges was retaliation for articles criticizing a local prosecutor and a closed fraud case.
(AP)
Olga Romanova And REN-TV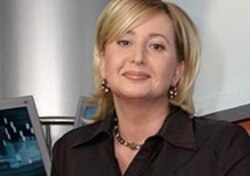 Olga Romanova (courtesy photo)

Just when it seemed impossible for Russian television to become any less controversial, the new owners of REN-TV announced on November 28, 2005, that they were pulling popular and respected journalist OLGA ROMANOVA off the air for at least three months. REN-TV is considered by many to be the last remaining independent television stations with a national reach. Romanova has vowed to fight the station's decision, saying she will take the case to court...(more)
See also:
Interview: REN-TV Editor In Chief Discusses Resignations