U.S. Intelligence Chief Warns Of Instability In Central Asia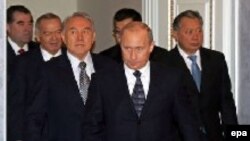 Central Asian heads of state met with Russian President Putin on 25 January at the EuroAsian Economic Cooperation Summit: from left to right, Emomali Rakhmonov of Tajikistan, Islam Karimov of Uzbekistan, Nursultan Nazarbayev of Kazakhstan, Vladimir Putin of Russia and Kurmanbek Bakiyev of Kyrgyzstan (epa) 2 February 2006 -- U.S. Director of National Intelligence John Negroponte warned today that central authority in one or more Central Asian states could "evaporate" as rival clans or regions compete for power.
In prepared testimony to the Senate Intelligence Committee, Negroponte described such a scenario a "worst but not implausible case."
Negroponte said that the collapse of central authority could lead to an expansion of terrorist and criminal activity.
He said the situation for the affected states could resemble failed states like Afghanistan when it was under Taliban rule.
Central Asia consists of Kazakhstan, Uzbekistan, Kyrgyzstan, Tajikistan, and Turkmenistan.
On Russia, Negroponte voiced concerns about President Vladimir Putin's drive to centralize power and assert control over civil society, growing state control over strategic sectors of the economy, and widespread corruption.
(AP, AFP)