RFE/RL: Is it possible for the West to cooperate with Russia considering its policy toward Uzbekistan now?
Straus: I think the possibility is still there but it is much more difficult because the game has been played out ever since the massacre [of demonstrators by Uzbek troops in Andijon in May] -- and even before that -- on the basis that Russia will support the dictatorship and the United States will oppose it. Russia has made great gains by this game. It is still possible, but that would be the precondition -- that some bargains have to be made and Russia has to see that it gets something.
RFE/RL: You say that the game over Uzbekistan is over. Who succeeded in this game?
Straus: It's the success of [Uzbek President Islam] Karimov playing us both off one another. He can claim a success.
RFE/RL: Do you think that Russia's image or its relationship with the West, the EU, will be somehow affected by supporting dictators in Central Asia?
Straus: Yes, it is affected. This causes the relationship to deteriorate somewhat, but not catastrophically. The real, deeper disillusionment with Russia in the West is because of Russian domestic policy and because of Ukraine, which is very close to the West. In Central Asia, the West is cautious because we don't have an absolutely clear idea of what to do or of how things could be done easily.
RFE/RL: Do you think that Russian President Vladimir Putin still has some concerns in Uzbekistan. For example, the Uzbek leader is widely viewed as an unreliable ally?
Straus: [Putin] is very afraid that any changes in regimes will destabilize things, first, and, second, that any changes in regimes will lead to a further decline in Russian influence. So, he's afraid of change. But, I agree with you that it would be in Russia's interests actually to have a different regime and what happened in Kyrgyzstan shows that Russia can actually gain rather than lose from change.
RFE/RL: What's your prediction on the future of Russian policy toward Uzbekistan?
Straus: If I am to predict, it is that Russia will continue to support him and the situation will remain as it is -- very unstable -- for some time. By coming closer, [Russia] makes itself suffer more when [Karimov] falls. Because of that, it will stick even closer to him to try to prevent him from falling. So it is a vicious circle in that also.
Uzbekistan's Ambassador To Tajikistan
Uzbekistan's Ambassador To Tajikistan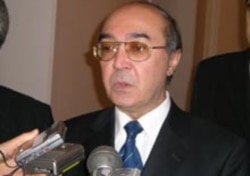 SHOQOSIM SHOISLOMOV, Uzbek ambassador to Tajikistan, spoke with RFE/RL Uzbek Service correspondent Habibullo Botirov on 14 December in the Tajik capital Dushanbe at a conference called the Forum For The Prevention Of Conflicts In Central Asia.
RFE/RL: Mr. Ambassador, at the opening session of this forum, you gave a speech and said that international organizations do not know the region of Central Asia very well and they often make wrong assessments of events in the region. What can you add to that statement?
Shoislomov: Yes, it is true that the region has many problems. But unfortunately, most employees of international organizations have never lived here. They don't know our life, our traditions, and customs. They don't have a deep knowledge [of the region]. Therefore, in their [reports], they portrait us as underdeveloped and backward. [Although], we can teach them 10 times more than they can teach us. There is such a thing as competency. They lack competency. These shallow opinions of theirs get reflected in some documents. They stigmatize us. Of course, we can never accept the stigma. One should think before putting opinions on paper.
The Central Asian states have 1,000 years of history. We face the hardest task in the war against religious extremism. When [the West] says it fights against religious extremism, they mean Islam. They try to portray our religion, Islam, from an absolutely different perspective in the world. In their opinion, Islam is an extremist religion. They try to say that it is a religion that goes against the West, against the whole world. Unfortunately, people in Western countries may accept these cliche.
RFE/RL: Erbol Shaimardanov, adviser to Kazakhstan's foreign minister, and some other participants said in their opening statements that Hizb ut-Tahrir has been included in the list of terrorist organizations. However, the organization can operate freely in some countries. How would you comment on this?
Shoislomov: It's a very correct question. If you want to fight against religious extremism, you should start with Hizb ut-Tahrir. But look at England itself. This summer it became a target of terrorist attacks. Hizb ut-Tahrir has its headquarter in London. [The British government] has given complete freedom to them. How can you understand it? We [the Uzbek government] has offered to everybody to fight against Hizb ut-Tahrir. As you see, many states have made a correct assessment of Hizb ut-Tahrir. But there are some governments, which consider themselves democratic, who gave complete freedom to Hizb ut-Tahrir. How can we treat an organization that comes from those countries and plot terrorist attacks on our territory? It's difficult to understand this. And they try to blame us for something.
See also:
Hizb Ut-Tahrir Challenges U.K. Government's Proposed Ban With Offer Of Dialogue
Uzbek Ties With Kyrgyzstan Worsen Amid 'Terror' Accusations
Uzbek Security Service Steps Up Work In Neighboring Countries