Supplies were soon restored, but a hastily fashioned agreement between Russia and Ukraine on 4 January revealed the growing importance of Central Asian gas to Russia. Subsequent talks between top-level Russian negotiators, including President Vladimir Putin, and the leaders of Uzbekistan and Turkmenistan drove the point home -- Central Asia's gas reserves are now poised to play a decisive role not only in the region's relations with Russia, but in Eurasian geopolitics as well.
Gazprom's Fortunes
Russia's rising appetite for Central Asian gas is a direct result of the shifting fortunes of Gazprom, the state-run Russian company that controls lucrative exports. The company's total gas production has flatlined at around 550 billion cubic meters (bcm) a year. With major fields yielding less as they age, Gazprom has chosen to maintain its all-important gas balance by purchasing gas on the side -- from independent producers in Russia and from Russia's Central Asian neighbors -- instead of investing in the lengthy and costly development of untapped Arctic fields, former Deputy Energy Minister Vladimir Milov explained in a 26 December article in "Novaya gazeta."
Maintaining the gas balance is crucial because Gazprom needs to keep up both domestic shipments, which serve to preserve social stability and subsidize the Russian economy, and exports, which produce profits. Domestic shipments at regulated, reduced prices totaled 258 bcm in 2004 and 325 bcm in 2005, when they generated losses of nearly $1 billion, Prime-TASS reported on 29 November. Exports to the West, which account for the bulk of Gazprom's profits, are planned at 151 bcm in 2006 and set to rise to 163 bcm by 2008, Prime-TASS reported on 23 November.
Faced with declining yields at home and rising demand across the board, Gazprom is looking south to make up the difference. In an October 2005 book titled "The Future Of Russian Gas And Gazprom," Professor Jonathan Stern, director of gas research at the Oxford Institute for Energy Studies, argues that Gazprom will undergo a signal shift in coming years, with dependence on Russian production giving way to "imports of around 100 bcm [a year] from Central Asian countries -- Turkmenistan, Kazakhstan, and Uzbekistan."
Publicly available plans confirm the upward tendency of Stern's projections. Gazprom plans to buy 9 bcm from Uzbekistan and 30 bcm from Turkmenistan in 2006, ferghana.ru reported on 23 January. Purchases from Turkmenistan are slated to go to 70-80 bcm a year by 2007-08, Prime-TASS reported on 30 November. With these boosts looming on the horizon, Gazprom hopes to expand the capacity of the Central Asia-Center pipeline, which links Turkmenistan and Russia through Uzbekistan and Kazakhstan, from current levels of 42 bcm/year to 55 bcm/year, and is considering another project linking Central Asia and Russia with throughput capacity of 30 bcm/year, Prime-TASS reported.
The Rest Of The Story
But the raw figures tell just one part of the story: Russia's increasing dependence on Central Asian gas. Price is another crucial factor in the equation, while politics is perhaps the most important factor of all. Both have been on prominent display in recent high-level contacts among Uzbekistan, Turkmenistan, and Russia.
Uzbekistan, a minor supplier of Central Asian gas and a major transit country for shipments to Russia from the region, has seen a deep freeze descend on its relations with the West after the violent suppression of unrest in Andijon in May. At the same time, Tashkent and Moscow have bolstered ties and brokered deals.
Uzbekistan expelled the United States
from its air base at Karshi-Khanabad in July amid U.S. calls for an independent international investigation of eyewitness accounts that Uzbek security forces massacred hundreds of unarmed demonstrators in Andijon. Russia, by contrast, strongly supported Uzbek President Islam Karimov's actions in Andijon, and in November
Karimov and Putin inked a treaty
that provides for mutual military assistance in the event of "aggression."
Central Asian Deals
The deals have not lagged far behind. Gazprom head Aleksei Miller recently reached an agreement with President Karimov for Russia to buy 9 bcm of Uzbek gas at $60 per 1,000 cubic meters in 2006 (see
"RFE/RL Newsline," 23 January 2006
). On 25 January, when Uzbekistan joined the Eurasian Economic Community (Belarus, Kazakhstan, Kyrgyzstan, Russia, and Tajikistan) at a summit in St. Petersburg, Russia, Gazprom was expected to sign two agreements with Uzbekistan pledging $1.5 billion in Russian investments in Uzbekistan's energy sector, AP reported.
Turkmenistan, a far more important source of gas for Russia in coming years, has proven a tougher nut to crack. Mercurial Turkmen President Saparmurat Niyazov, whose self-obsessed initiatives have included renaming the months of the year after himself and members of his family, is a notoriously slippery negotiating partner. The tentative 4 January compromise between Russian and Ukraine depends on affordable Turkmen gas, but the actual contracts are not yet set in stone.
A Turkmen-Ukraine agreement for Ukraine to buy 40 bcm of Turkmen gas at $50 per 1,000 cubic meters in 2006 exists "only in verbal form," according to Russia's "Vremya novostei." Meanwhile, questions surround a Russian agreement to buy 30 bcm of Turkmen gas at $65 per 1,000 cubic meters in 2006. For one, it is unclear how the amounts tally, since official statistics put Turkmenistan's total production in 2005 at 63 bcm, with exports amounting to 45 bcm (see
"RFE/RL Newsline," 12 January 2006
). Second, Russia's "Vedomosti" reported on 13 January that Turkmenistan would like to raise its export price for Russia to $85 per 1,000 cubic meters, which would torpedo the carefully calibrated Russian-Ukrainian compromise. While Turkmen diplomats denied the "Vedomosti" report, a 23 January
meeting between Presidents Niyazov and Putin
failed to clarify the prices and volumes of Turkmen gas exports to Russia and Ukraine in 2006, "Kommersant" reported on 24 January.
Turkmenistan's Dealings
Further complicating the Turkmen situation are Niyazov's plans to expand exports against a backdrop of untested production capacity and murky information about reserves. Shortly before Niyazov traveled to Moscow, Zhang Guobao, deputy minister of China's National Development and Reform Commission, visited Ashgabat to draft an agreement for Turkmenistan to export 30 bcm a year to China via a projected pipeline through Uzbekistan (see
"RFE/RL Newsline," 18 January 2006
). Gas-hungry Pakistan is also eager to see a pipeline through Afghanistan, security considerations permitting, to carry an equal amount of Turkmen gas.
When Platts Oilgram News queried Christof Van Agt, the International Energy Agency's Central Asia administrator, on 4 January about President Niyazov's ambitious plans, Van Agt replied: "If Turkmenistan is to meet Chinese and South Asian aspirations of 30 bcm/year apiece, while maintaining historic Ukrainian and Russian deliveries, production will have to double to around 130 to 140 bcm/year, or roughly 50 percent above pre-independence capacity of 90 bcm/year."
While Turkmenistan's ability to ramp up production remains as unclear as the true extent of its gas reserves, the existence of other customers and export routes could prove a powerful bargaining chip in future price negotiations with existing partners, like Russia. In a pointed hint, a report on the publicly inconclusive 23 January Putin-Niyazov meeting by Turkmenistan's official TDH news agency mentioned not only recent Chinese-Turkmen talks, but also meetings between Turkmen officials and Turkish Energy Minister Mehmet Hilmi Guler, whose country could provide an alternate export route for Turkmen gas through a trans-Caspian pipeline.
Political Considerations
Yet another factor in Russia's increasing energy dependency on Central Asia is the internal political situation in Turkmenistan and Uzbekistan, both undemocratic regimes ruled by aging strongmen. In Turkmenistan, where Niyazov has effectively reduced the political system to his own person, the short-term and long-term prospects for stability come with serious caveats. Similar concerns affect Uzbekistan. Succession remains an unresolved issue in both countries.
Tellingly, while both Turkmenistan and Uzbekistan are gas exporters, reports point to problems with domestic supplies. In one of President Niyazov's populist initiatives, gas is free inside Turkmenistan, but Deutsche Welle reported on 23 January that apartments have been chilly during a recent cold snap. Doctors in Ashgabat told Deutsche Welle that they are treating many patients for illnesses contracted as a result of cold conditions in unheated apartments. Similar hardship is evident in Uzbekistan, according to RFE/RL, where dozens of women blocked a road in Andijon on 21 January to protest a lack of gas and electricity.
Russia's Gas Strategy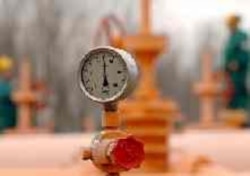 RUNNING HOT AND COLD The crisis over Russian supplies of natural gas to Ukraine that erupted on New Year's Day has implications that spread well beyond these two countries and will impact both economic and political policymaking throughout Europe. On January 19, RFE/RL's Washington, D.C., office hosted a briefing the examined the ramifications of the natural-gas conflict.
CLIFFORD GADDY, a senior fellow at the Brookings Institution, outlined Russia's "grand energy strategy," in which Ukraine is perceived as merely an obstacle frustrating Russia's energy ambitions in Western Europe and therefore a nonentity in Russia's broader strategic planning. According to Gaddy, Russia's strategic goal regarding energy is to maximize the role of its own energy resources in the world energy markets, so as to increase its geopolitical influence. To do this, it must reduce competition and maximize dependency on its own energy resources, as well as ensure a stable supply.
TARAS KUZIO, a visiting assistant professor at George Washington University, rebutted Gaddy's argument, claiming that Russia's actions evidenced a complete lack of geopolitical strategy and resulted in strong denunciations by Western countries and a loss of political allies in Ukraine. According to Kuzio, Russian President Vladimir Putin's desire to have a deal signed by the January 4 European Union energy summit outweighed his hope of reinforcing opposition to Ukrainian President Viktor Yushchenko during the run-up to Ukraine's March 26 parliamentary elections.
RFE/RL Coordinator of Corruption Studies ROMAN KUPCHINSKY did not fully agree with Kuzio's assessments of Yushchenko or Ukraine. He outlined three major problems that are feeding the conflict between Russia and Ukraine. The biggest, he argues, is that the state-controlled Russian gas giant Gazprom holds a monopoly on natural-gas sales outside the CIS. Kupchinsky also decried Ukraine's consumption of natural gas, terming it "out of control." Corruption is also a major factor in the conflict, Kupchinsky said, although the extent to which it taints the deal struck between Russia and Ukraine remains unknown.
LISTEN
Listen to the complete panel discussion (about 90 minutes):
Real Audio Windows Media
RELATED ARTICLES