PRAGUE, 23 January 2006 (RFE/RL) -- Temperatures in Georgia are dipping below freezing. Tempers, by contrast, are blazing hot.
First, two explosions on the morning of 22 January in the southern Russian republic of North Ossetia knocked out the main pipeline exporting gas across the border to Georgia.
Hours later, a third explosion -- in Karachaevo-Cherkessia, another southern Russian republic -- ripped through a power line, temporarily cutting off a portion of Georgia's electricity supplies.
Georgian President Mikheil Saakashvili said there could be only one culprit: "It was an attempt by Russia to force Georgia to surrender ownership of its domestic gas pipeline."
Saakashvili gave no evidence to back his claim. But he went on to describe the blasts as "outrageous blackmail" and the latest move by Russia to use energy dominance to impose its political will on its smaller ex-Soviet neighbors.
Russian rhetoric was no less heated. The Foreign Ministry called Tbilisi's reaction the result of "hysteria and Bacchanalia." It also accused Georgian officials of seeking to "spoil" their relations with Russia and currying favor with the West.
Russian President Vladimir Putin today ordered the Interior Ministry and the Federal Security Service (FSB) to boost control over pipelines in the Caucasus region.
Russian prosecutors have also opened criminal proceedings into the blasts, which the government has suggested was the work of pro-Chechen insurgents.
Vladimir Chkhikvishvili, Russia's ambassador to Georgia, today expressed concern about Georgia's angry accusations but expressed hope the true culprits would be found. "According to our knowledge, it was a terror act, which was evidently planned beforehand. Investigation is already on the way. I hope that our security officials will find not only perpetrators but also those who gave the orders," Chkhikvishvili said.
Emergency Measures
Russia's state-controlled gas Gazprom monopoly, meanwhile, says it is pumping an additional 3 million cubic meters to Georgia via alternate pipelines in Azerbaijan.
Officials predict there may be at least two more days of severe gas shortages in Georgia and Armenia, which receives its Russian exports via the Georgian pipeline.
European Commission spokeswoman Emma Udwin said today it was too early to say anything about the cause of the explosions, but that the EU was watching developments in Georgia and Armenia carefully.
Georgian Conflict Resolution Minister Giorgi Khaindrava told RFE/RL's Russian Service today the situation is critical but that the country is getting help from its neighbors: "Luckily we have reliable and good neighbors -- Azerbaijan, Iran, and Turkey. Turkey immediately started supplying us with electricity; Azerbaijan started supplying us with gas. Now negotiations are under way for the Iranian gas. So slowly the situation is improving, although though the majority of the Georgian population has been left without gas and electricity."
A spokesman for Azerigaz, Azerbaijain's state natural gas distribution company, told RFE/RL's Azerbaijani Service that the company on Sunday night began pumping 2 million cubic meters of gas a day to Georgia to help with emergency shortages. He said Georgia had request 4 million cubic meters a day, but that Russia's Gazprom had not yet begun to pump additional supplies through the Azerbaijani pipeline.
It may be difficult to ultimately determine who was behind the pipeline and power-line blasts. Saakashvili has said none of the militant groups operating in the region has any complaint against Georgia.
Even without a clear culprit, however, the incident has once again highlighted Moscow's dominance over its energy-dependant CIS neighbors.
Gas Crisis
The crisis in Georgia comes less than a month after Gazprom temporarily shut off gas supplies to Ukraine after Kyiv refused to accept a fourfold price hike.
The Russian gas giant has also raised prices for its exports to Moldova and all of the South Caucasus states, prompting those countries to hasten their search for alternatives sources of energy.
Russia has indicated it would cut rates in some countries in exchange for control over their pipeline systems. For countries such as Georgia, Ukraine, and even pliable Belarus, this is a powerful lever they have so far refused to give up.
Saakashvili on 19 January called on his government to ensure that by 2009 the country will no longer be reliant on Russia for its energy supplies.
The Georgian president has also said he wants Kazakhstan to replace Russia as his country's leading foreign investor.
But it remains to be seen if Georgia will be able to break free of its energy dependence on Russia.
Aleksei Malashenko of the Moscow Carnegie Center told RFE/RL's Russian Service that the latest crisis will deal a blow to both Moscow and Tbilisi, and that Georgia's aggressive rhetoric doesn't help either side.
"The rhetoric of Georgian politicians is a little infantile and provincial. In this situation, complaining about Russia is ridiculous, because Russia itself has also lost a lot," Malashenko said. "Following the loud declarations that were made on Russia being a great energy power, and so on and so forth, it turns out that it is not even capable of maintaining the integrity of such an important component as its own pipelines and wires."
In the end, Malashenko said, it may be Moscow who makes the first move to end the conflict. The Russian government, he said, "has nothing to gain" from the exchange of "caustic remarks."
(RFE/RL's Russian, Azerbaijani, and Georgian services contributed to this report.)
Gas Facts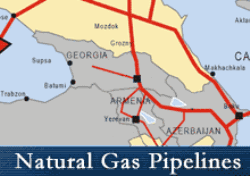 Click on the map for an enlarged image.
Ukraine consumes 70 billion cubic meters (bcm) of gas per year. It produces 20 bcm of its own gas, has a signed contract to import 40 bcm from Turkmenistan, and in 2005 was getting 29 bcm from Russia as payment for transit of Russian gas.
Ukraine sells some 7 bcm of gas a year to the West and places some in underground storage facilities. These facilities can hold 34.5 bcm.
Ukraine is the sixth-largest consumer of gas in the world and uses more gas than Poland, the Czech Republic, Hungary, and Slovakia combined.
Russia has proven gas reserves of 47 trillion cubic meters (tcm) -- the largest in the world ahead of Iran and Qatar.
Russia sells approximately 160 bcm to Europe each year. By 2015, Europe is expected to import 300 bcm, or 40 percent of its projected needs from Russia.
Russia's Gazprom is the world's largest gas company. It is the only company allowed by Russian law to export gas outside the borders of the CIS. It also owns the gas-transportation system and most of the gas fields in Russia.
The Russian state is Gazprom's majority shareholder , with a 51 percent share. The company's ownership rights changed as of the beginning of 2006, with Gazprom stock being sold on the open market. The Russian state, however, will continue to hold the majority stake.