Georgia Ends Involvement With Ex-Soviet States' Military Group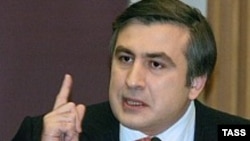 President Saakashvili said Georgia has decided on a course to join NATO (file photo) (ITAR-TASS) February 2006 -- The office of Georgian President Mikheil Saakashvili today said that he has signed an order to end Georgia's involvement in a group intended to develop military cooperation among ex-Soviet nations.
A statement from Saakashvili's office announced the president's decision to opt out of the Council of Defense Ministers of the Commonwealth of Independent States.
Pro-Western Saakashvili has set the goal of securing an invitation for his country to join NATO by 2008.
The statement said Georgia "has taken a course to join NATO and it can't be part of the two military structures simultaneously."
(AFP, AP)