De Hoop Scheffer was in Paris to meet with French Defense Minister Michele Alliot-Marie. He spoke ahead of a crucial debate today in the Dutch parliament over the future of the NATO force in Afghanistan.
A Dutch deployment of up to 1,400 troops in a new NATO mission to Afghanistan has been on hold for months due to political disagreements in the Netherlands.
Denmark's parliament today decided to send 200 more troops to the NATO-led international force in Afghanistan. Denmark currently has 160 soldiers based in the Afghan capital, Kabul.
(compiled from agency reports)
Foreign Minister Abdullah Abdullah
Foreign Minister Abdullah Abdullah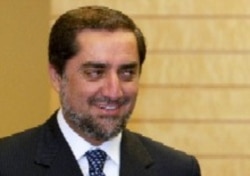 Abdullah Abdullah (epa)


Afghan Foreign Minister ABDULLAH ABDULLAH on January 21 spoke by telephone with RFE/RL Afghan Service correspondent Zarif Nazar. Abdullah discussed the most recent videotaped message from Al-Qaeda leader Osama bin Laden, the current state of the Taliban, terrorist attacks in Afghanistan, and the upcoming London conference on the Afghanistan Compact.
To read the complete interview,click here.