Russian Ships Enter Mediterranean For NATO Operation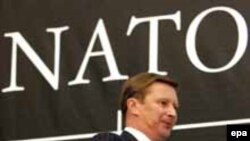 Russian Defense Minister Sergei Ivanov (file photo) (epa) 5 February 2006 -- Ships of the Russian Navy have entered the Mediterranean Sea to take part for the first time in a NATO anti-terrorist operation in those waters.
A Black Sea Fleet spokesman said the ships are heading for the Italian port of Messina.
Russia, which is not a NATO member, formally cooperates with the alliance through the NATO-Russia Council and NATO's Partnership for Peace program.
Operation Active Endeavor began in 2001 in response to the 11 September attacks on the United States as an initiative aimed at combating possible threats in the Mediterranean.
(AFP, RIA-Novosti)