Iraq's struggling oil sector is once again being rocked by scandal, following an announcement on 5 February that the Public Integrity Commission has filed criminal charges against a member of parliament for allegedly embezzling millions of dollars intended to improve security of a key pipeline.
The scandal comes amid reports of growing tension between the central government in Baghdad and the Kurdistan Regional Government (KRG), which administers one of Iraq's key oil-producing areas.
Between 40 and 50 percent of all profits from oil smuggling go into the pockets of insurgents.
Control of Iraq's oil is a highly sensitive issue, so the claim made by outgoing Deputy Prime Minister Ahmad Chalabi on 31 January that the KRG had failed to obtain approval from the central government for a number of oil exploration projects in Kurdistan could complicate talks to form a new government.
Among the most important oil exploration efforts is in Zakho, a town on the Turkish border. Kurdish officials said in late January that the exploration there had already produced "very good results." Kurdish officials maintain that the Oil Ministry was aware of the drilling. Back in November, in an interview with RFE/RL's Radio Free Iraq, the governor of the oil-rich Dahuk region, Tamir Ramadan, said "the Oil Ministry has helped and expended great effort [on the project] so it was a party in this project."
Under the new Iraqi constitution, ratified in October, regional governments are supposed to work closely with Baghdad to develop the oil sector. "The federal government and the governments of the producing regions and provinces together will draw up the necessary strategic policies to develop oil and gas wealth to bring the greatest benefit for the Iraqi people," the constitution stipulates.
Chalabi, who briefly took control of the Oil Ministry in December, said that no such agreement between the KRG and Baghdad exists about oil exploration, Dow Jones Newswires reported on 6 February.
That places Det Norske Oljeselskap (DNO), the Norwegian oil exploration company drilling at Zakho, in an uncertain legal position.
DNO maintains that it has "a legal valid agreement in full compliance with the constitution."
Chalabi begs to differ, saying that "negotiations have not started yet."
DNO "may have some deal with the Kurds," Chalabi said in an interview with Reuters published on 1 February, "but they need to have a deal with Baghdad to explore."
Chalabi believes "we need a law before we can get to exploration and production."
He gave no indication, though, when such a law might be passed and, in reality, at this point the central government can do little to stop the drilling, something Kurdish officials are acutely aware of.
Oil Ministry In Disarray
Corruption and the growing dispute with the KRG are just two of the problems besetting the Oil Ministry.
The Oil Ministry itself has been in disarray since the start of the year, after Oil Minister Ibrahim Bahr al-Ulum tendered his resignation on 2 January. The reason was the government's decision in December to put him on leave after the minister openly criticized a planned increase in fuel prices.
Bahr al-Ulum returned to his post one week later at the behest of President Jalal Talabani and Shi'ite leader Abd al-Aziz al-Hakim, but, at the minister's urging, al-Ja'fari finally accepted his resignation last week.
His replacement as acting oil minister -- Hashim al-Hashimi -- has raised questions, with media reports saying that the former tourism minister has no expertise in the oil sector.
Chalabi told Reuters that, in his view, al-Hashimi's lack of expertise is not an issue.
Insurgents Cripple An Already Decrepit Infrastructure
A raft of news this year has only served to underline that the oil sector, too, is in disarray.
Despite its wealth of oil, Iraq has had to rely heavily on oil imports since the fall of the Hussein regime in 2003. In January, its oil debt to Turkey topped $1 billion, prompting 34 Turkish companies to stop exporting to Iraq. The Iraqi government says payments will begin shortly, but Turkish State Minister Kursat Tuzmen said exports will remain suspended until the debt is paid.
The situation worsened, rather than improved in 2005, with insurgent attacks on pipelines and refineries crippling the country's oil industry. Oil production fell by 8 percent in 2005, averaging between 1.5 and 1.8 million barrels per day - one million barrels fewer than it was producing before Operation Iraqi Freedom began in 2003. For a country that relies on oil revenues to finance more than 90 percent of its annual budget - and with foreign aid expected to be cut drastically this year - the impact could be disastrous for the incoming government.
Leaving aside the additional damage that the insurgency could wreak, Iraq needs billions of dollars to modernize its oil production system. A World Bank estimate says it would take $8 billion to raise output to three million barrels per day. Speaking at a gathering of members of the Oil Petroleum Exporting Countries (OPEC) in Vienna on 31 January, Chalabi said that he expects $4 billion in investment, but did not say from where it would come.
But until insurgent attacks on oil infrastructure are addressed, the industry will continue to suffer. An increasing amount of information is emerging from Oil Ministry insiders that points to massive criminality, including indications that some Ministry personnel are acting, for example, as paid informants for insurgent networks and for oil-smuggling mafias.
In January, a security guard working at the Bayji complex in northern Iraq told the U.S. magazine "Newsweek" that his colleagues were known to be paid informants for insurgents.
Finance Minister Ali Allawi, quoted in a 5 February report by the "New York Times," estimated that between 40 and 50 percent of all profits from oil smuggling go into the pockets of insurgents. He added that members of the insurgency hold senior management positions in the Bayji refinery, one of the country's key oil installations.
The previous day, on 4 February, police arrested the director of a Kirkuk processing plant, along with police officials and other employees, for a 2 February attack that destroyed much of the plant.
The Al-Juburi Scandal
It is against this backdrop that the multi-million dollar embezzlement scandal broke on 5 February. Mish'an al-Juburi, who was nominated last year to serve as the speaker of parliament, is charged with graft after a government investigation revealed that he and his son embezzled government funds intended to pay for paramilitary forces to guard pipelines that run from Bayji through the Salah Al-Din Governorate to Baghdad. The paramilitary force proved to be fictitious. Through a company formed by one of his sons, he allegedly pocketed about one-fifth of a $102,000-per-month contract to feed the guards, who, according to a list provided by al-Juburi, were supposed to number between 200 and 300.
Al-Juburi is also accused of colluding to steal Kalashnikov rifles. The weapons were stolen from civilian vehicles after Al-Juburi had ordered soldiers not to transport the 200 rifles to his battalion in military vehicles, which would be the normal practice.
Al-Juburi, who once had strong relations with Saddam Hussein's deceased son Uday, is now in Syria, his son Yazin told RFE/RL's Radio Free Iraq on 6 February.
Related Interview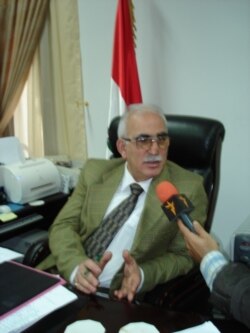 Radi al-Radi, head of the Commission on Public Integrity, speaking with RFI on 7 February (RFE/RL)

Radi al-Radi, head of the Commission on Public Integrity, on 7 February spoke with RFE/RL's Radio Free Iraq (RFI) about the corruption charges against parliamentarian Mish'an al-Juburi. Al-Juburi has been charged with graft under suspicion that he siphoned off salaries for ghost employees of a pipeline-protection force he oversaw in the Salah Al-Din Governorate. His son, Yazin, has also been charged, as his company is accused of misusing funds earmarked for feeding the protection force....(more)
See also: