Putin Plans To Invite Hamas To Moscow For Talks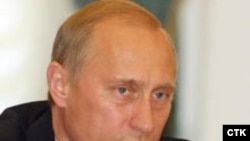 Putin said the international community must respect the Palestinian election results (file photo) (CTK) 9 February 2006 – Russian President Vladimir Putin has declared his intention to invite Hamas officials to Moscow for discussions on the Middle East peace process, saying the international community must respect the choice of the Palestinian people.
Putin's remarks in the Spanish capital, Madrid, followed Hamas' victory in Palestinian legislative elections last month.
A senior Hamas official in Gaza said the group's leaders will travel to Moscow if they receive a formal invitation.
"[We] care about relations with all countries of the international community and of the region. Therefore, we would be delighted to visit Russia and to hold talks and consultations with the Russian president and government," Ismail Haniyah said.
Meanwhile, an Israeli Foreign Ministry spokesman said Israel would not negotiate with Hamas until the group recognizes Israel's right to exist, renounces terror, and accepts the Middle East peace process.
And the top U.S. diplomat for the Middle East, David Welch, said Washington wants any government that meets Palestinians to stress international mediators' conditions for dealing with Hamas.
In London last month, the Quartet of Middle East mediators called on Hamas to renounce violence and recognize Israel. The Quartet includes Russia, the United States, the European Union, and the United Nations.
Hamas has rejected the demand.
(AFP, Reuters, AP)


SUBSCRIBE For news and analysis on Russia by e-mail,
subscribe to "RFE/RL Russia Report."