Azerbaijan's Aliyev Cancels Newspaper Debts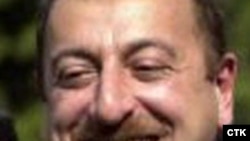 Aliyev said he hoped his decision would encourage the development of a free press (file photo) (CTK) 9 February 2006 -- Azeri President Ilham Aliyev wrote off hundreds of thousands of dollars in debts for more than 150 newspapers in Azerbaijan today.
He said the move will help the development of a free and independent press.
An order printed in government media canceled some $420,000 in debts owed to the main state-held printing press.
The paper published by the ruling Yeni Azerbaijan party, "Ses," held the bulk of the debts. But many nongovernmental papers owed significant amounts to the printing house, as well.
The head of the Organization for Security and Cooperation in Europe's office in Baku, Maurizio Pavesi, praised the move and said more should be done to tackle the remaining constraints on media freedom in Azerbaijan.
(AP)

RFE/RL Central Asia Report

SUBSCRIBE For regular news and analysis on all five Central Asian countries by e-mail,
subscribe to "RFE/RL Central Asia Report."