Western nations have successfully pushed for Iran to be reported to the UN Security Council for its failure to demonstrate convincingly that its nuclear scientists are not working on a nuclear weapons program.
Ahmadinejad was addressing a huge rally in the Iranian capital, Tehran, to mark the 27th anniversary of the Islamic Revolution.
"The Islamic Republic's policy has been to follow its nuclear efforts in the framework of the [International Atomic Energy] Agency and the NPT [Nuclear Nonproliferation Treaty]," he said. "However, if we find out they are going to take advantage of these regulations to destroy the rights of the Iranian people, you should know that the Iranian nation will reconsider its policy."
He also repeated his view that the Holocaust is a "myth" that has enabled Zionists to blackmail Western countries for more than 60 years.
He said the real holocaust was happening in Palestine and Iraq.
(Reuters, AFP, dpa)
The Iranian Revolution
Iranians demonstrate in Tehran on February 10, 1979, shortly after the return to Iran of Ayatollah Ruhollah Khomeini (epa)
THE ISLAMIC REPUBLIC: Iran's 1979 revolution ended 2,500 years of monarchy and established the world's first modern theocracy. In February 2004, on the 25th anniversary of that event, RFE/RL produced a special report on how the ensuing years have measured up to the expectations of those times.
"I had been freed from jail in those days, and I hoped that the [revolutionary] forces would bring democracy and progress for the country, despite the religious leadership that caused some doubts, I hoped that the press would be free, the books would be published without censorship, [political] parties, associations and civil society organizations would be formed, and I hoped that I would be able to write freely. In fact, in these 25 years, I have not seen anything but the death and silencing of those beautiful hopes and dreams," Faraj Sarkouhi, an exiled writer and journalist, told RFE/RL....(more)
ARCHIVE
RFE/RL's reporting on Iran.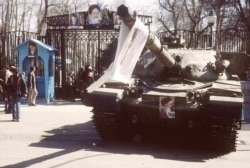 A tank bearing a portrait of Ayatollah Ruhollah Khomeini takes up a position in Tehran on February 12, 1979 (epa)