On 4 February, the governing board of the United Nations nuclear watchdog, the International Atomic Energy Agency (IAEA)
voted to report Iran to the UN Security Council
over continued concerns about its nuclear program. Wasting no time, the Iranian government the same day instructed the national media on how it should portray the country's nuclear diplomacy.
Some of the country's political elites, however, have raised questions about this issue, suggesting that Iran is heading down a potentially dangerous path.
Offering Comfort Through The Official Line
The media advisory on covering the nuclear issue was issued by the Secretariat of Iran's Supreme National Security Council, roozonline reported. Referring to the IAEA decision, the advisory said the media must not portray the country's diplomatic efforts as unsuccessful or say that the country suffered a loss.
Warning against discouraging the Iranian people, the advisory called for stories that avoid stirring fear or worry, and that in no way suggest diplomatic efforts had reached a dead end.
The impact of the media advisory soon became evident. Mustafa Kavakebian, the managing director of the reformist "Mardom Salari" daily, said on 7 February that Iran was being reported to the Security Council for political rather than legal reasons, the Islamic Republic News Agency (IRNA) reported. Kavakebian was cited as adding that "hegemonic powers" were trying to block Iran's rightful access to nuclear technology.
Iran's envoy to the IAEA has said Russia and China oppose Security Council involvement in the issue. But some observers might have reason to doubt his confidence: Tehran miscalculated by counting on Moscow and Beijing to block its referral.
Rajabali Mazrui, the head of the Iranian Journalists Guild, said in a similar spirit that the country had not closed the door to negotiations. IRNA cited him as saying: "We should hold talks with the world and European states. The atmosphere of talks should be one that would build confidence on both sides."
In Vienna on 8 February, Iran's envoy to the IAEA downplayed the issue even more, saying at most, the Security Council would call on Iran to continue its cooperation with the UN nuclear agency, but no more. Ali Asqar Soltanieh went on to say that the council in fact cannot do anything if IAEA Director-General Muhammad el-Baradei's report on Iran is not presented at the March meeting of the agency's governing board, IRNA reported. There has been no indication, however, that the report will not be delivered as planned.
Few Friends In Moscow And Beijing
Soltanieh went on to tell IRNA on 8 February that Russia and China oppose Security Council involvement in the issue. But some observers might have reason to doubt Soltanieh's confidence: Tehran miscalculated by counting on Moscow and
Beijing to block its referral
.
Nevertheless, it is reasonable for Iran to suggest that, Security Council referral notwithstanding, options still remain. Officials in Russia and China have stressed they would like to keep the issue under the purview of the IAEA. Russian Defense Minister Sergei Ivanov said on 4 February the Security Council is simply being notified, RIA Novosti reported.
Ivanov also referred to a planned 16 February meeting with Iranian officials to discuss the possibility of uranium being enriched in Russia, used as fuel in Iran, and then returned back to Russia for reprocessing or storage. Russian Foreign Minister Sergei Lavrov made a similar point on 6 February, Interfax reported.
Russian legislator Andrei Kokoshin, who chairs the State Duma CIS Affairs Committee, said on 8 February that Russia and China, as well as India, have not given up on persuading Iran to resolve the situation, Interfax-Military News Agency reported. Kokoshin emphasized the importance of Iran accepting the Russian nuclear fuel proposal, saying, "It is now important that Tehran makes a final decision on this project as soon as possible."
Chinese Foreign Minister Li Zhaoxing said on 7 February that he hopes for a diplomatic solution, Xinhua reported. Foreign Ministry spokesman Kong Quan added on the same day that Beijing hopes to see the crisis resolved through negotiations that take place within the "IAEA framework," and went on to call for "restraint," "patience," and "flexibility," Xinhua reported.
Kong explained China's vote in favor of the resolution, saying, "We believe this resolution is asking Iran to fulfill its obligations and commitments, but it is not transferring the IAEA's responsibility on handling the Iran nuclear issue to the UN Security Council." Kong added that a Foreign Ministry colleague, Zhang Yan, traveled to Tehran on 1 February to discuss Beijing's stance and expectations.
Iranians Question Foreign Policy
Iran's leading officials and political figures are united
in the desire to master the peaceful use of nuclear energy. There is less unity, however, regarding the diplomatic efforts of President Mahmud Ahmadinejad's administration.
Hojatoleslam Hassan Rohani, who was secretary of the Supreme National Security Council for 16 years and who still serves on the council as a representative of Supreme Leader Ayatollah Ali Khamenei, was for some time Iran's top nuclear negotiator. He made it clear at a 9 February speech in Tehran that he is unimpressed with the current state of affairs.
"Shouting alone will not help us to achieve our goals," he said, according to the Iranian Students News Agency (ISNA). He added, "To stand up to our enemies, we need a multidimensional, proactive and dynamic strategy."
Rohani recommended widening Iran's "circle of consultants" -- in other words, bringing in people with better experience, diplomatic skills, and negotiating abilities.
This is not the first time that Rohani has disparaged the diplomatic gaffes of Ahmadinejad's team. Rohani and Expediency Council Chairman Ayatollah Ali-Akbar Hashemi-Rafsanjani raised similar doubts about the executive branch in October, giving voice to
the concerns of many Iranians
.
And these two are not alone. The National Trust Party, which was established by former Parliament Speaker Hojatoleslam Mehdi Karrubi after the 2005 presidential election, has held several meetings recently to discuss the nuclear issue.
The outcome, National Trust spokesman Ismail Gerami-Moqaddam said in the 7 February "Etemad-i Melli" party newspaper, is that the country can resolve its diplomatic difficulties by turning to elder statesmen like Hashemi-Rafsanjani, Karrubi, and Hojatoleslam Mohammad Khatami, the former president.
Members of the political elite have suggested the country can resolve its diplomatic difficulties by turning to elder statesmen like former presidents Ayatollah Ali-Akbar Hashemi-Rafsanjani and Hojatoleslam Mohammad Khatami.
National Trust also called for a switch from the policies initiated by the current Supreme National Security Council secretary and chief nuclear negotiator, Ali Larijani, to the previous policy of "active diplomacy."
Even before the 4 February IAEA decision, concern in Iran was palpable. The reformist minority in the legislature met with Hashemi-Rafsanjani on 31 January and urged him to act. Parliamentarian Mohammad Reza Tabesh said he and his colleagues told Hashemi-Rafsanjani they believed that under the previous administration, the nuclear issue had been developing normally, "Sharq" reported on 1 February. "At a time when an opportunity to reach some agreements was starting to [take] shape, the process was disrupted... and previous strategies were disregarded as new developments unfolded," Tabesh said.
Another prominent reformist, Mohsen Armin of the Mujahedin of the Islamic Revolution Party, also spoke dismissively of Iran's diplomatic efforts. "It was perfectly obvious from the start that countries like Russia and China would advertise support for Iran until the last minute to take the greatest possible concessions from America and Europe and ultimately make deals with the two powers and advance their national interests," he said in the 1 February edition of the reformist "Sharq" paper.
Armin said anybody with a basic knowledge of international relations could have figured this out, and added the Ahmadinejad government must adopt the strategies followed by its reformist predecessor.
Concern emanated from the other side of the aisle, as well. A conservative legislator from Tehran, Mohammad Khoshchehreh, said the country's diplomacy and crisis management must be reviewed, the reformist paper "Etemad" reported on 1 February. Management should be the primary concern, he said, because this will facilitate threat-reduction efforts.
Khoshchehreh called for amending the "optimistic perspective that believes nothing will happen" and reviewing the "group that speaks in simplistic terms of world affairs." It is simplistic, he continued, to think of Russia and China as Iran's allies.
The Iranian Revolution
Iranians demonstrate in Tehran on February 10, 1979, shortly after the return to Iran of Ayatollah Ruhollah Khomeini (epa)
THE ISLAMIC REPUBLIC: Iran's 1979 revolution ended 2,500 years of monarchy and established the world's first modern theocracy. In February 2004, on the 25th anniversary of that event, RFE/RL produced a special report on how the ensuing years have measured up to the expectations of those times.
"I had been freed from jail in those days, and I hoped that the [revolutionary] forces would bring democracy and progress for the country, despite the religious leadership that caused some doubts, I hoped that the press would be free, the books would be published without censorship, [political] parties, associations and civil society organizations would be formed, and I hoped that I would be able to write freely. In fact, in these 25 years, I have not seen anything but the death and silencing of those beautiful hopes and dreams," Faraj Sarkouhi, an exiled writer and journalist, told RFE/RL....(more)
ARCHIVE
RFE/RL's reporting on Iran.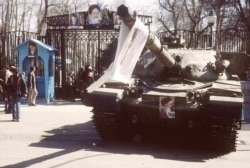 A tank bearing a portrait of Ayatollah Ruhollah Khomeini takes up a position in Tehran on February 12, 1979 (epa)