The attack took place on 11 February in the Ingushetian town of Troitskaya.
One of the attackers was killed. Security forces have detained a second suspect.
Russian troops have been battling separatist militants in the nearby Russian republic of Chechnya for more than a decade. Two days of fighting near the Chechen border last week left 12 suspected rebels and seven policemen dead.
(AP)
The Chechnya Conflict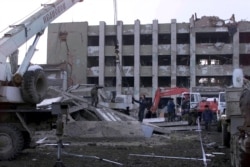 The aftermath of a December 2002 Chechen resistance attack on the main government building in Grozny (epa)


CHRONOLOGY
The
fighting in Chechnya
has raged, with short breaks, since 1994. It has brought misery, death, and destruction to the North Caucasus republic and to Russia as a whole. View an
annotated timeline
of the conflict.

ARCHIVE
RFE/RL's complete coverage of Russia's war-torn Republic of Chechnya.