Firefighters Battling Moscow Blaze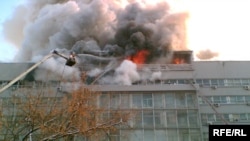 Two women were hospitalized in connection with the Moscow fire (RFE/RL) 13 February 2006 -- Firefighters today were battling a blaze hours after it broke out in a building in Moscow housing the offices of several newspapers.
Ten people were evacuated from the building after the fire broke out earlier today. Two women were hospitalized with breathing and hypertension problems.
Russia's Emergency Situations Minister Sergei Shoigu has reportedly arrived at the site. Russian news agencies said prosecutors have opened a criminal investigation on charges of negligence.
Among the newspapers housed in the building is the popular "Komsomolskaya pravda" daily.
(ITAR-TASS, Interfax)