Iran Confirms It Has Blocked BBC's Persian Website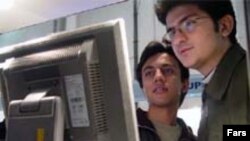 Iranian internet users (file photo) (Fars) 13 February 2006 -- The Iranian government has confirmed that it has blocked access to the BBC's Persian news website.
Iran said the British news service is pursuing "anti-Iranian" interests.
Minister of Culture and Islamic Guidance Mohammad Hossein Safar Harandi said today the length of the ban depends on the BBC's and its Persian site's "attitude towards the Islamic world and Iran."
The BBC reported on 24 January that the Iranian authorities had blocked BBCPersian.com.
The website receives around 30 million hits a month.
Over the past year, Iranian Internet service providers have blocked access to hundreds of political, human rights, and women's sites deemed pornographic or anti-Islamic by the authorities.
(AFP)