Norwegian Defense Ministry spokesman Commander Thom Knustad has described the attempt by the protestors to enter the military compound as "an attack on a NATO base in Afghanistan." And NATO officials have said the Norwegians acted appropriately and, under the circumstances, praised them for the restraint that they showed.
Common People Protest
The fact that the attack against a NATO base -- in what is one of the safer areas of Afghanistan -- was carried out not by a band of insurgents or terrorists but rather the local population should bring the countries contributing troops to the NATO-led International Security Assistance Force (ISAF) back to the drawing board regarding their long-term plans for Afghanistan.
Beyond the crisis over the cartoons, NATO should expect to be in the thick of volatile situations triggered by a domestic dispute or even a neighbor of Afghanistan.
NATO foreign ministers meeting in Brussels in December formally endorsed an expansion of NATO's peacekeeping operations in Afghanistan. The revised operational plan for ISAF -- known as "Stage 3 expansion" -- provides strategic guidance for increased NATO support to the Afghan government in extending and exercising its authority and influence throughout the country.
The next stage of that plan is the expansion of ISAF in 2006 to six south-central Afghan provinces: Daikondi, Helmand, Kandahar, Nimroz, Oruzgan, and Zabul. As part of the expansion, ISAF is expected to grow from its current strength of 9,000 soldiers from 26 NATO and 10 non-NATO countries to 16,000 troops -- with most of the reinforcements coming from Canada, the Netherlands, the United Kingdom, and Australia.
ISAF's expansion has been hailed as a sign of commitment by NATO to Afghanistan's long-term stability and has been deemed an essential factor in its transformation to a fully- functioning nation-state. However, the vague mandate of ISAF, the limitations imposed on its operations based on national caveats, and the failure of the long-standing Washington hope to combine the commands of ISAF and the U.S.-led coalition forces, could spell trouble for the West's greatest military alliance in its first test outside of the European theater.
Stabilization
NATO's overall policy in Afghanistan is to conduct stabilization management rather than managing a crisis. Militarily, ISAF is mandated to conduct "stability and security operations" in coordination with Afghan national security forces and to provide support to Afghan government programs to "disarm illegally armed groups." However, it is not clear whether ISAF is authorized to use force if such an approach is adopted by Kabul. Technically, under the terms of the new Afghanistan Compact signed on 31 January in London mapping out the next five years for Afghanistan, Kabul is tasked with disbanding all militias by 2008.
Whereas NATO has yet to be tested in restive southern Afghanistan where the threats are much greater and the need for coordination more critical, the "attack" on the ISAF base in Maymana must have brought the message to countries contributing NATO troops that the Afghan mission may involve crisis management, not just stability and security operations.
Faryab is a province where the Kabul government's direct control is viewed as tenuous. Faryab is controlled by one of the more powerful warlords in Afghanistan, General Abdul Rashid Dostum, who has his own militia and is engaged in a low-level struggle with a rival warlord, General Abdul Malik.
What took place in Maymana on 7 February -- whether a genuine expression of anger by a mob or an opportune situation for a domestic or foreign spoiler to pursue its agenda -- could very well spell the end of NATO's role as bystanders in Afghanistan's crisis.
Beyond the crisis over the cartoons, NATO should expect to be in the thick of volatile situations triggered by a domestic dispute or even a neighbor of Afghanistan. Iran, for example, could find it convenient to harm those countries which are working with the West to resolve Tehran's controversial nuclear program by using Iranian allies inside Afghanistan to spoil NATO operations there.
Foreign Minister Abdullah Abdullah
Foreign Minister Abdullah Abdullah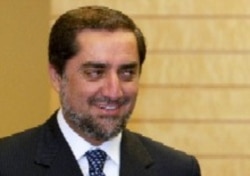 Abdullah Abdullah (epa)


Afghan Foreign Minister ABDULLAH ABDULLAH on January 21 spoke by telephone with RFE/RL Afghan Service correspondent Zarif Nazar. Abdullah discussed the most recent videotaped message from Al-Qaeda leader Osama bin Laden, the current state of the Taliban, terrorist attacks in Afghanistan, and the upcoming London conference on the Afghanistan Compact.
To read the complete interview,click here.