Russia, Ukraine Discuss Black Sea Fleet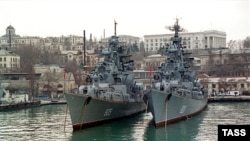 14 February 2006 -- Russian and Ukrainian officials began consultations today over the presence of Russia's Black Sea Fleet in Ukraine.
In Kyiv, Ukrainian Deputy Foreign Minister Volodymyr Ohryzko and Russian Deputy Foreign Minister Grigory Karasin were leading the meeting.
A 1997 bilateral agreement allows Russia to use a base at the Ukrainian port of Sevastopol, in Crimea until 2017. The Russians pay Ukraine more than $90 million a year to use the base.
Ukrainian officials have suggested that amount could be raised, while Russia is urging Ukraine to abide by the agreement.
On 13 February, Ukrainian Foreign Minister Borys Tarasyuk suggested Russia should start preparing for the gradual withdrawal of the Black Sea Fleet from Ukraine after 2017.
Today's consultations are the first to be held on the issue in three years on such a high level.
("Ukrayinska pravda," UNIAN, AP)