France Says Iran's Nuclear Program Is 'Military'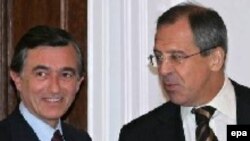 Douste-Blazy (left) with his Russian counterpart Sergei Lavrov last month in Moscow (epa) 16 February 2006 -- French Foreign Minister Philippe Douste-Blazy today for the first time called Iran's nuclear program a "clandestine military" project.
Douste-Blazy told French television that it is "very simple: No civilian nuclear program can explain Iran's nuclear program."
His remarks came two days after Tehran confirmed it is resuming sensitive uranium-enrichment work.
Douste-Blazy called the enrichment "a clandestine military nuclear program."
On 15 February, Iranian parliament speaker Gholamali Haddad Adel, during a visit to Caracas, Venezuela, suggested that Iran could consider helping Venezuela develop nuclear technology for the peaceful generation of energy.
Haddad Adel said Iran and Venezuela have not had any conversations on nuclear cooperation, but Iran would be willing to study the possibility.
(AFP)
U.S. IAEA Governor Gregory Schulte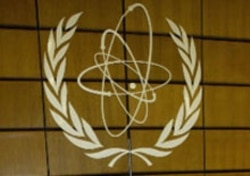 THE INTERNATIONAL COMMUNITY SPEAKS: Listen to excerpts from a November 22 Radio Farda interview with Gregory Schulte, the U.S. representative on the Board of Governors of the International Atomic Energy Agency (IAEA).


LISTEN
Listen to the complete interview:
Real Audio
Windows Media
THE COMPLETE STORY:
For RFE/RL's complete coverage of controversy surrounding Iran's nuclear program,
click here.
CHRONOLOGY: An annotated timeline of Iran's nuclear program.