Bosnia Could Conclude EU Pre-Membership Pact This Year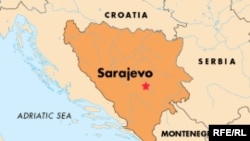 (RFE/RL) 19 February 2006 -- European Commission President Jose Manuel Barroso has said that, provided it achieves substantial progress in reforms and fully cooperates with the UN war crimes tribunal, Bosnia-Herzegovina could sign a pre-membership agreement with the EU by the end of this year.
Barroso made those comments after talks on 18 February with Bosnian Prime Minister Adnan Terzic in Sarajevo.
Bosnia last month began talks on the EU's Stabilization and Association Agreement (SAA), the first step on the long road to joining the bloc.
Barroso today said Brussels would also welcome progress on Bosnia's constitutional reforms, although he stressed that this is not a precondition for the successful conclusion of SAA negotiations.
Earlier on 18 February, Albania officially joined the SAA at a ceremony in Tirana that Barroso and other EU officials attended.
(AFP, dpa)