Manuchehr Mottaki said Iran is looking for a "peaceful solution" to the international dispute over its nuclear program and is ready to hear "new ideas."
Mottaki said it was wrong for the West to use the threat of UN Security Council sanctions against Iran.
Mottaki made his comments after talks with Belgian Foreign Minister Karel de Gucht. He is due to meet European Union officials in Brussels later on 20 February.
Iran says its nuclear program is to provide energy, while the West accuses it of seeking to produce nuclear weapons.
(Reuters, AP)
Security Guarantees For Iran?
Security Guarantees For Iran?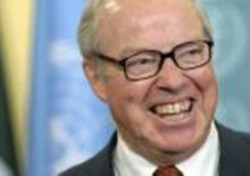 Hans Blix (CTK)

SECURITY GUARANTEES On January 26, RFE/RL Radio Farda correspondent Fatemeh Aman spoke with former UN chief weapons inspector HANS BLIX about the confrontation between Iran and the international community over Tehran's nuclear ambitions. Blix urged the United States to participate in direct negotiations with Tehran and to offer Iran security guarantees that are similar to those being discussed with North Korea...(more)
LISTEN
Listen to the complete interview (about five minutes):

Real Audio
Windows Media

THE COMPLETE STORY: RFE/RL's complete coverage of controversy surrounding Iran's nuclear program.