U.S. Ambassador Warns Iraq Against Sectarianism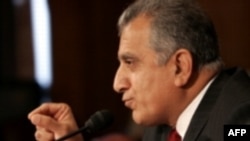 Zalmay Khalilzad said key government posts must not be filled by people who have ties to militias (file photo) (AFP) 20 February 2006 -- The U.S. ambassador to Iraq warned Iraqi politicians today that they risk a loss of American support if sectarianism continues in the country.
Ambassador Zalmay Khalilzad said today during a press conference that a government of national unity, not a sectarian one, should be appointed.
Khalilzad said that the key security Defense and Interior ministries must be in the hands of people "who are nonsectarian, broadly acceptable, and who are not tied to militias."
He also said the United States would not invest money that support sectarian militias.
The ambassador also issued a warning to Iran, saying it has to stop providing training and weapons to Shi'ite militias.
(AP, Reuters)