Russia hopes to persuade Iran to reinstate a moratorium on uranium-enrichment activities by offering to create a joint enterprise that would enrich uranium for Tehran on Russian territory.
But the head of the Iranian delegation, Ali Hosseini-Tash, on 20 February ruled out linking a moratorium on uranium enrichment and talks on the Russian proposal.
AFP quoted Iranian Foreign Minister Manuchehr Mottaki as saying today that Iran will no longer have talks over its nuclear program with the so-called EU-3 of Britain, France, and Germany. Instead, he said Iran would deal with individual European countries.
Negotiations between Iran and the EU-3 broke off when Tehran announced in January that it is resuming activities linked to uranium enrichment.
(compiled from agency reports)
U.S. IAEA Governor Gregory Schulte
U.S. IAEA Governor Gregory Schulte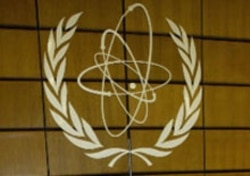 THE INTERNATIONAL COMMUNITY SPEAKS: Listen to excerpts from a November 22 Radio Farda interview with Gregory Schulte, the U.S. representative on the Board of Governors of the International Atomic Energy Agency (IAEA).


LISTEN
Listen to the complete interview:
Real Audio
Windows Media
THE COMPLETE STORY:
For RFE/RL's complete coverage of controversy surrounding Iran's nuclear program,
click here.
CHRONOLOGY: An annotated timeline of Iran's nuclear program.