Haniyah To Be Asked To Form Hamas Government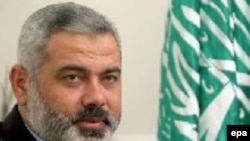 Hamas official Ismail Haniyah (file photo) (epa) 21 February 2006 -- Palestinian Authority President Mahmud Abbas will formally ask Ismail Haniyah today to form a government.
Haniyah has been picked by the militant group Hamas to fill the post of prime minister. On 20 February, Abbas met in Gaza with Haniyah and other Hamas leaders, two days after a Hamas-led parliament was sworn in.
Hamas has begun coalition talks with other militant factions and Islamic Jihad has rejected such an offer, vowing to press on its fight with Israel.
In a bid to isolate Hamas, Israel on 19 February halted the transfer of tax revenues owed to the Palestinian Authority.
Alvaro de Soto, the UN special envoy to the Middle East, said Israel's decision ran counter to the position taken last month by the Quartet of major peace mediators -- the United States, the European Union, the United Nations, and Russia.
In its 30 January statement, the Quartet said Hamas would risk losing vital aid -- when it formed a government -- unless it rejected violence and recognized Israel.
(Reuters, AP)