Putin In Azerbaijan Seeking Bilateral Agreements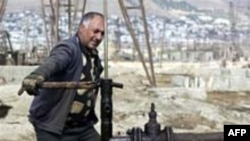 A new pipeline in Azerbaijan transports Caspian oil to the West (file photo) (AFP) 21 February 2006 -- Russian President Vladimir Putin has started a two-day visit to Azerbaijan in what is being seen as an effort to forge closer ties with the oil-rich Caspian Sea nation.
The trip is Putin's second to Azerbaijan since he became president in 2000. Azerbaijan is the starting point for a newly completed U.S.-backed pipeline that transports Caspian oil to Western markets, bypassing Russia.
Putin said historic ties between the two ex-Soviet nations would help foster cooperation.
Azerbaijani President Ilham Aliyev noted a steady increase in bilateral trade that exceeded $1 billion last year.
Tomorrow, the two presidents are expected to meet and sign a series of bilateral agreements.
(compiled from agency reports)


UPDATED CONSTANTLY: Visit RFE/RL's Russian-language website, featuring news, analysis, features, streaming audio, and more, in Russian, from RFE/RL's Russian Service.
ARCHIVE
RFE/RL's English-language
coverage of Russia
.