Duma Backs Antiterrorism Bill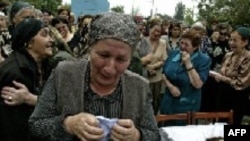 The funeral of a victim of the hostage crisis in Beslan, which ended in the deaths of some 330 children, parents, and teachers (file photo) (AFP) 22 February 2006 -- Russia's lower house of parliament today overwhelmingly approved the second reading of a bill aimed at countering terrorism.
The bill, which was first drafted after a series of terrorist attacks in Russia in 2004, defines restrictions that the Russian authorities may impose during counterterrorism operations.
It also bans organizations "whose purposes and actions include the propaganda, justification, and support of terrorism."
It permits air defense units to shoot down planes seized by terrorists and also defines instances when the armed forces can be called upon to counter terrorist attacks.
The Duma will consider the bill in its third and final reading on 26 February. The document then has to be approved by the upper house of the Russian parliament, the Federation Council, and signed by the president.
(Interfax, ITAR-TASS)

SUBSCRIBE For news and analysis on Russia by e-mail,
subscribe to "RFE/RL Russia Report."