Milosevic Says His Health Is Worsening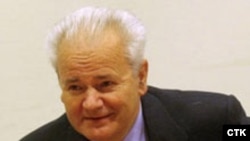 The court will decide this week if the ailing Milosevic can go to Russia for medical treatment (file photo) (CTK) 22 February 2006 -- Former Yugoslav president Slobodan Milosevic is asking the United Nations war crimes tribunal to speed up a decision on his request for provisional release to undergo medical treatment.
Milosevic today told the court in The Hague that his health was worsening.
In December, he asked permission to travel to Moscow for special medical treatment. The court has said it will decide on his request this week.
Milosevic's heart condition and high blood pressure have repeatedly interrupted his trial, which started almost four years ago. He is charged with 66 counts of genocide, crimes against humanity, and war crimes in indictments covering conflicts in Bosnia, Croatia, and Kosovo in the 1990s.
(Reuters)



For an archive of RFE/RL's coverage of the trial of former Yugoslav President Slobodan Milosevic, click here.
Of related interest:
RFE/RL Special: The Collapse Of Tito's Yugoslavia