Russians Promises To Return Milosevic After Treatment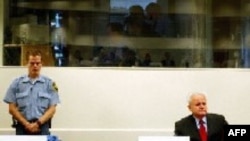 Milosevic on trial (file photo) (AFP) 19 January 2006 -- Russia has offered guarantees to the International War Crimes Tribunal for the Former Yugoslavia (ICTY) that it will return former Yugoslav President Slobodan Milosevic to the tribunal if, as he has requested, he undergoes medical treatment in Russia.
Pavel Kornatsky, an official at Russia' embassy in The Hague, said on 19 January that the embassy had provided written guarantees to the tribunal on 18 January.
Kornatsky said that it is up to the tribunal to decide whether Milosevic can travel to Russia.
Milosevic's four-year trial in The Hague, for war crimes committed during the Balkan wars of the 1990s, has been interrupted repeatedly on health grounds.
(dpa)



For an archive of RFE/RL's coverage of the trial of former Yugoslav President Slobodan Milosevic, click here.
Of related interest:
RFE/RL Special: The Collapse Of Tito's Yugoslavia