Bush Meets With Wives Of Two Missing Belarusian Men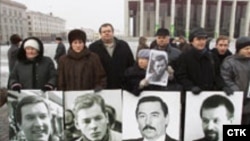 Protesters in Minsk last fall displayed pictures of people who have been killed or gone missing during President Lukashenka's rule (CTK) 27 February 2006 -- U.S. President George W. Bush today highlighted concerns about political repression in Belarus by meeting the wives of a disappeared Belarusian businessman and a journalist.
White House spokesman Scott McClellan said Bush's aim was "to underscore his personal support for the [wives'] efforts to seek justice for the disappeared, as well as for all those who seek to return freedom to Belarus.
Bush joined a meeting of his national security adviser, Stephen Hadley, with Iryna Krasouskaya and Svyatlana Zavadskaya.
Anatol Krasouski, a businessman who had criticized Belarusian President Alyaksandr Lukashenka, vanished without trace in September 1999.
Dzmitry Zavadski, a cameraman in Minsk for Russian broadcaster ORT, disappeared on his way to pick up his colleague Pavel Sheremet from the Minsk airport on 7 July 2000.
McClellan said the United States believes that the Belarus authorities are to blame for the two men's disappearance.
(AFP, AP)


Click on the image to view a dedicated page with news, analysis, and background information about the Belarusian presidential ballot.
MEET THE CANDIDATES: Read brief biographies of the four candidates in the March 19 election.


Click on the image to view RFE/RL's coverage of the election campaign in Belarusian and to listen to RFE/RL's Belarusian Service.