Imprisoned Ex-Moldovan Defense Minister Hospitalized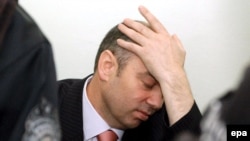 Pasat during his trial, June 2005 (epa) 28 February 2006 -- A lawyer for imprisoned former Moldovan Defense Minister Valeriu Pasat said his client has been hospitalized due to the effects of several hunger strikes.
Pasat, who was defense minister from 1997-1999, and head of spy services from 1999-2002, is serving a 10-year prison sentence. He was found guilty in January of abusing his position by selling 21 fighter planes to the United States too cheaply.
Lawyer Gheorghe Amihalachioaie said Pasat was admitted to the prison hospital last week. Amihalachioaie said his client needs "special medical treatment that doesn't exist in the prison hospital."
The U.S. Embassy in Moldova has criticized the closed-door trial and the fact that the judge would not admit sworn statements by U.S. officials.
Prosecutors have recently brought new charges against Pasat, arguing that he planned to overthrow the administration of President Vladimir Voronin and assassinate an opposition leader.
(AP)
RFE/RL Belarus, Ukraine, And Moldova Report

SUBSCRIBE For weekly news and analysis on Belarus, Ukraine, and Moldova by e-mail,
subscribe to "RFE/RL Belarus, Ukraine, And Moldova Report."