Putin was speaking in Budapest, during a visit to Hungary. He said that in his judgment, agreement is possible on Russia's offer to enrich uranium for Iran.
The international community is worried that if Iran does its own enrichment, it could develop nuclear weapons.
At the same time, Putin cautioned that no-one has the right to limit a country from pursuing nuclear energy, as long as it stays within the framework of international law.
Talks on the joint enrichment project between Russia and Iran are to take place in Moscow tomorrow.
Iranian Foreign Minister Manuchehr Mottaki said today however that Iran will not stop uranium enrichment even if it accepts the Russian offer of a joint venture.
(Reuters, AP)

Security Guarantees For Iran?
Security Guarantees For Iran?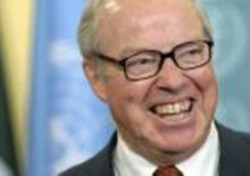 Hans Blix (CTK)

SECURITY GUARANTEES On January 26, RFE/RL Radio Farda correspondent Fatemeh Aman spoke with former UN chief weapons inspector HANS BLIX about the confrontation between Iran and the international community over Tehran's nuclear ambitions. Blix urged the United States to participate in direct negotiations with Tehran and to offer Iran security guarantees that are similar to those being discussed with North Korea...(more)
LISTEN
Listen to the complete interview (about five minutes):

Real Audio
Windows Media

THE COMPLETE STORY: RFE/RL's complete coverage of controversy surrounding Iran's nuclear program.