Serbian Nationalists Reject Donated Dutch Bus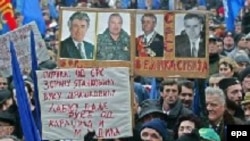 Serbian Radical Party supporters in Belgrade at a demonstration backing war crimes suspect Ratko Mladic and other fugitives from the Balkan conflict, 24 February (epa) 28 February 2006 -- Nationalists in a Serbian town are calling on local authorities to send back a donated Dutch bus because it comes from the country hosting the U.N. war crimes tribunal, which is prosecuting prominent Serb suspects.
Reuters news agency reports that members of the opposition Radical Party have said the bus that was given to the town of Pirot in southeastern Serbia is an insult.
Local leader Boban Vojinovic said Serbian Radicals do not want charity from such a source.
Radical Party leader Vojislav Seselj is in detention awaiting trial at the tribunal in The Hague.
But Pirot Mayor Milan Popovic said the donation cannot be returned because Pirot needs buses. Several Western countries have donated buses to Serbian towns to help them recover from the Balkan wars of the 1990s.
(Reuter)


SUBSCRIBE
For a regular review of politics, media, and RFE/RL broadcasts in the western Balkans,
subscribe to "RFE/RL Balkan Report."