UNITED NATIONS, 28 February 2006 (RFE/RL) -- In terms of female representation in parliament, Kyrgyzstan is at the bottom of the list, along with countries like Saudi Arabia that prohibit women from running for office.
IPU Secretary-General Anders Johnson says that Kyrgyzstan lost its female legislators when it moved over the past year from a bicameral to unicameral parliament.
"Kyrgyzstan had women in parliament, it was a bicameral parliament. And then they changed the parliament to a single chamber, monocameral parliament. And of course there were outgoing members of parliament from both chambers fighting for a lower number of seats on a smaller parliament, and the ones who tended to lose out were the women," Johnson says.
Still, Johnson says that despite such setbacks, the representation of women in high political office is improving globally.
"The good news [is that] our figures show that women continue to increase their participation in political life and in parliaments," he says. "By the end of last year, 16.3 percent of all members of parliament were women, which is a new record, up by almost a percentage point from the previous year."
By comparison, only 11 percent of elected parliamentarians were women in the year 2000.
The IPU report says that the number of female presiding officers of parliament reached a new high in January -- 10 women in unicameral parliaments and 18 women in bicameral parliaments.
Among the countries where solely women preside over the parliaments are Albania, Estonia, Georgia, Greece, Hungary, and Latvia.
One of those female parliamentary heads appearing at the 27 February press conference in New York to announce the new statistics was Ingrida Udre, speaker of the Latvian parliament. She said that women from minorities, particularly from the Russian minority, are fairly represented in the Latvian parliament.
"I could say approximately 16 percent of the members of parliament are Russian," she said. "If we talk about the Russian-speaking minority in Latvia, they are not just Russians, they are people who use Russian language in their daily life so they are Polish, they are Belarusians, they are Ukrainians, they are probably Estonians or Jews or other minorities in Latvia."
The number of parliaments with 30 percent or more female participation, the report says, increased fourfold in the last decade. In 1995 there were only five such countries, in 2006 there are 20.
The 30 percent target is considered the threshold where women gain a critical mass to have an impact on the workings of a parliament.
According to the IPU, the country with the highest percentage of women in parliament is Rwanda. There, 39 of a total of 80 seats in the legislature are held by women, almost 50 percent.
Belarus ranks 21st in the world in female representation in parliament, with 32 of 110 seats in the lower house held by woman, about 29 percent.
Afghanistan ranks 23rd, with 68 out of 249 seats in the lower chamber held by women, or a little over 27 percent.
Iraq ranks 26th, with 70 out of 275 seats in the single-chamber National Assembly held by women, or 25.5 percent.
And the United Kingdom ranks 50th, with 127 out of 646 seats in the House of Commons held by women, or 19.7 percent.
Influential Women

Mas'uda Jalal is a physician and member of the Afghan government who finished sixth in her unprecedented bid for the Afghan presidency. ...(more)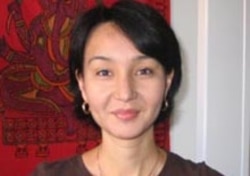 Galima Bukharbaeva risked her life covering the bloody crackdown on protesters in Andijon, Uzbekistan. ...(more)
Saltanat Rakhymbekova heads the Business and Industry Department in Kazakhstan's Central Karaganda province. ...(more)
Gozel Kulzhanova started her own landscaping and plant decorating business and a related magazine in Kazakhstan....(more)

Four-Part Series:
Women & Power In Central Asia (Part 1): The Struggle For Equal Rights
Women & Power In Central Asia (Part 2): Women Increase Presence In Kazakhstan's Business Sector
Women & Power In Central Asia (Part 3): Afghan Women Rise To Top After Taliban Repression
Women & Power in Central Asia (Part 4): Roundtable On The Tajik, Afghan, and Iranian Experiences