Afghanistan: Despite Threats, Female Tajik Singer Performs In Kabul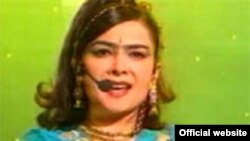 Tajik singer Manizha (file photo) (official site) Popular Tajik singer Manizha Davlatova played two concerts in Afghanistan on 19 and 20 January, in Kabul and Mazar-e Sharif, respectively. The concerts were held under tight security and, despite the relatively expensive tickets (about $40), many people attended the events. The concerts were the first of their kind in more than two decades to be held in the deeply conservative Afghan society, where women entertainers do not appear in public. Manizha, who is from Kulob, has become one of Tajikistan's most well-known singers over the last three years. RFE/RL's Tajik Service correspondent Khiromon Bakoeva interviewed Manizha on 23 January while she was still in Afghanistan.
RFE/RL:
How were the concerts? Are you satisfied with them?
Manizha:
I'm happy that I could make people at least a little bit happy. My main goal was to break taboos. It had been 23 years since a woman had appeared on the scene [here in Afghanistan and performed]. My goal was really to break this taboo.
"I was told that it's better not to have the second concert. But in general it was good."
RFE/RL: So you achieved your goal?

Manizha: I believe I did.

RFE/RL: How many people attended your show?

Manizha: There were many people. I had one concert in Kabul but the second concert, which was due to be held the next day, had to be cancelled because of security concerns.

RFE/RL: There were some unconfirmed reports that some conservative politicians had threatened to disrupt your concert. Were you actually threatened? Why didn't you have your second concert in Kabul?

Manizha: I had two concerts in one day but the next day I didn't have it because of security -- there were many people. I was told that it's better not to have the second concert. But in general it was good.

RFE/RL: How were you dressed and what songs did you sing?

Manizha: I had prepared 23 songs but unfortunately I wasn't able to sing all of them during the concert in Kabul. I think my dress matched the songs that I played. I wore a Tajik dress at one time and had some other dresses.

RFE/RL: You were dressed according to Afghan tradition [more conservatively]? Not like you would have on the Tajik scene [which is more liberal], right?

Manizha: That is correct, yes.
Afghanistan's Musical Revival


BACK IN THE GROOVE Decades of war and the Taliban's five-year ban on music took their toll on Afghan classical music. Musicians have been trying to resuscitate the art since the end of Taliban rule. But they face serious economic and artistic challenges -- including the threat of possible attack by Taliban fighters if they perform in provincial areas...(more)


WATCH
View slideshow of Afghan musicians.
RealVideo