Russia, Iran Disagree On Enrichment Halt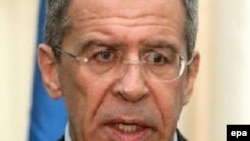 Sergei Lavrov (file photo) (epa) 1 March 2006 -- Foreign Minister Sergei Lavrov reiterated today Russia's call for Iran to return to a moratorium on enriching uranium as a condition for taking part in a joint enrichment facility on Russian territory.
Lavrov was speaking to reporters in the Hungarian capital, Budapest, where President Vladimir Putin was on a state visit.
In Moscow, Iran's chief nuclear negotiator, Ali Larijani, said there was no need for Tehran to resume a moratorium on uranium-enrichment activity, insisting that all its nuclear activities were "transparent."
He added that Iran agrees to international inspections if they are conducted in line with international law.
"We agree with [International Atomic Energy Agency] inspections and international regulations," Larijani said. "In this regard, therefore, they should not make threats against a country that believes in these regulations. Threats and violent behavior were used in the past and they did not work."
Larijani is in Moscow for talks on a Russian proposal to form a joint venture to enrich Iran's uranium in Russia. The proposal is intended to allay international concerns over Iran's nuclear program.
(AP, Reuters)

THE COMPLETE PICTURE: RFE/RL's complete coverage of controversy surrounding Iran's nuclear program.
CHRONOLOGY
An
annotated timeline
of Iran's nuclear program.