Hussein Admits Central Role In Al-Dujayl Massacre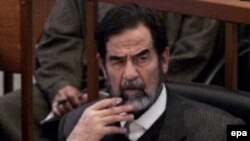 Former Iraqi leader Saddam Hussein in the courtroom yesterday (epa) 1 March 2006 -- Former Iraqi President Saddam Hussein admitted today that he ordered the trials of scores of Shi'ites in the 1980s, and the razing of their farms after they were executed.
But he insisted that this was done according to the law.
Speaking to a Baghdad courtroom, Hussein also called for the release of his co-defendants, saying he was the only one responsible for those events.
Hussein, along with seven co-defendants, is charged with crimes against humanity over the 1982 killing of 148 Shi'ite Muslims following a failed assassination attempt in the village of Al-Dujayl.
The trial has been adjourned until 12 March.
(AP, Reuters)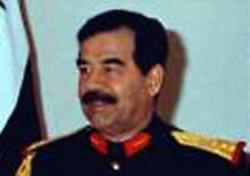 For a timeline of former Iraqi President Saddam Hussein's life from his rise within the ranks of the Ba'ath Party and the Revolution Command Council to his regime's ruthless persecution of perceived enemies at home and abroad, click here.