The defendants are facing charges of crimes against humanity for the 1982 killing of 148 Shi'a in reprisal for a failed assassination attempt on Hussein in the village of Al-Dujayl.
Prosecutors presented what they said were official documents passing death sentences on the 148, as well as signed approval from the president.
Proceedings were disrupted early on when Hussein's lawyers left the courtroom after the rejection of their requests for an adjournment and for the judge to be replaced. They argue that the presiding judge is biased.
The lawyers were replaced with court-appointed attorneys.
The trial was then adjourned until 29 February.
(AFP, AP, Reuters, dpa)
Saddam Hussein Biography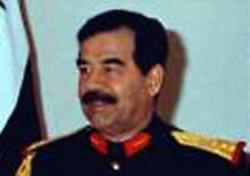 For a timeline of former Iraqi President Saddam Hussein's life from his rise within the ranks of the Ba'ath Party and the Revolution Command Council to his regime's ruthless persecution of perceived enemies at home and abroad, click here.