A spokesman from the UN mission in Afghanistan, Adrian Edwards, cited 12 suicide attacks so far this year.
He said some incidents are related to insurgency and terrorism, others to organized crime.
In this environment, Edwards added, the job of reconstruction and development is becoming more difficult.
Attackers destroyed 29 tons of food aid in central Oruzgan Province on March 2.
(AFP)
Suicide Attacks In Afghanistan
Suicide Attacks In Afghanistan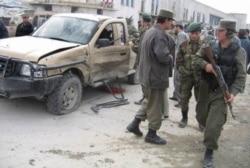 The results of a suicide-bomb attack in Kandahar Province on January 16 (epa)
Suicide bombers have struck more than two dozen times in Afghanistan since neo-Taliban and Al-Qaeda insurgents appear to have stepped up use of such attacks following the provincial and national elections of September 2005. While sporadic until recent months, suicide bombings have killed at least 90 people in Afghanistan since late 2001 -- including the attack in the days leading up to 9/11 that left legendary Afghan mujahedin commander Ahmad Shah Mas'ud dead. For an overview of suicide attacks in Afghanistan dating back to 2001, click here.