Car Bombs Kill One, Injure Others In Iraq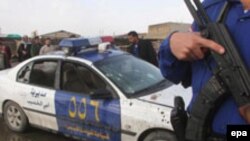 Police at the site of an attack on a police patrol in Al-Basrah, February 7. (epa) March 7, 2006 -- A car bomb exploded in the Iraqi town of Ba'qubah today, killing at least one person.
Reports say the car detonated on a highway as a police patrol was passing.
Also on March 7, two separate car bombs exploded in the space of about five minutes in the town of Hilla, south of Baghdad, wounding three traffic police officers.
Other reports say there were also violent incidents in Balad, Bayji, Tikrit, and the capital, Baghdad.
These incidents came a day after a sniper killed one of the highest-ranking generals in Iraq's new, U.S.-trained army.
Major-General Mubdir Hatim al-Dulaymi was gunned down as his convoy drove in Baghdad.
(compiled from agency reports)


SUBSCRIBE For weekly news and analysis on Iraq by e-mail,
subscribe to "RFE/RL Iraq Report."