Four Killed In Shooting In Abkhazia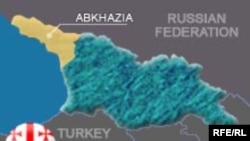 (RFE/RL) March 8, 2006 -- Abkhaz separatist authorities say four civilians, including a seven-year-old girl, were killed today in the Gali district of the breakaway republic.
Security officials blamed "terrorists" for the killings, an apparent reference to Georgian nationalist militias believed to be operating in the region.
Sergei Bagapsh, the president of the unrecognized government of the breakaway republic, directly accused Tbilisi of being behind the killings.
Abkhazia, and another region, South Ossetia, broke away from the central government in the early 1990s.
The shooting occurred in a part of the Gali district where Russian peacekeepers patrol an uneasy cease-fire between Abkhaz and Georgian forces.
(AFP, AP, Interfax)