Moldovan Official Denies Reports On Russian Journalist's Killing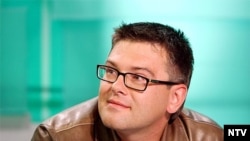 NTV journalist Ilya Zimin (NTV) March 9, 2006 -- A spokesman for the Moldovan Interior Ministry has denied saying the that police believe the main suspect in the killing of Russian television journalist Ilya Zimin has fled to neighboring Romania.
The March 9 edition of the Russian "Kommersant" daily quoted Andrei Slutu as identifying the suspect as Igor Velchev, a Moldovan citizen, and saying that Velchev had managed to escape arrest a few days ago by fleeing to Romania.
Slutu told the Moldovan news agency Flux on March 9 that he never made "such statements" for "Kommersant."
Zimin, a 33-year-old investigative reporter who worked with the NTV television station, was found dead in his Moscow apartment on February 26. Russian prosecutors say they believe his death is not connected to his work.
(Kommersant, AP, Flux)