U.S. To Close Abu Ghurayb Within Months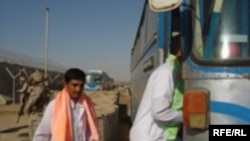 Prisoners are released from Abu Ghurayb, Sep. 2005 (RFE/RL) March 9, 2006 -- Reports say the U.S. military will close Abu Ghurayb prison, probably within three months, and transfer some 4,500 prisoners to other jails in Iraq.
Reuters news agency quotes a military spokesman, Lieutenant Colonel Keir-Kevin Curry, as saying operations will be transferred from Abu Ghurayb to the new Camp Cropper "once construction is completed there."
Camp Cropper is a detention facility in the U.S. military headquarters base at Baghdad airport, not far from Abu Ghurayb.
The prison in western Baghdad became notorious worldwide during a scandal which led to the conviction of several low-ranking U.S. soldiers for abusing prisoners there in late 2003.
(Reuters, CNN)