Officials describe the deaths of the two, who attended the same school in Tbilisi, as a "tragic coincidence."
They say the two died of pneumonia. Health authorities have pledged further investigations into the sudden deaths.
Two cases of bird flu were reported in February in one district of Georgia's autonomous republic of Adjara. Agriculture Minister Mikheil Svimonishvili has said the outbreak has been dealt with and that he recommends the government lift the state of emergency imposed on the area.
(Novosti-Gruziya, Prime News)
Interview With UN FAO's Erwin Northoff
Interview With UN FAO's Erwin Northoff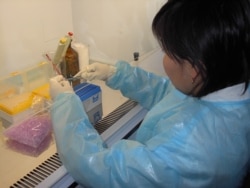 An expert at the National Virology Laboratory of the Kyrgyz Health Ministry (courtesy photo)
GETTING READY: Many have expressed concern about the ability of Central Asian countries to come to grips with a possible bird-flu outbreak. RFE/RL Turkmen Service correspondent Muhammad Tahir spoke with Erwin Northoff, news coordinator for the UN's Food and Agriculture Organization (FAO), about the issue. ....(more)