Suspected H5N1 Bird-Flu Case Reported In Georgia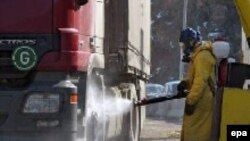 Georgian veterinary worker disinfects a truck arriving from Azerbaijan (file photo) (epa) 24 February 2006 -- The first suspected case of the deadly H5N1 strain of bird flu has been reported in Georgia.
Prime Minister Zurab Noghaideli said preliminary tests showed that a dead wild swan found in the Ajara autonomous republic carried the H5N1 virus. Samples have been sent to a laboratory in Britain for further analysis.
A ban on live poultry trade had been imposed throughout Georgia.
(Novosti-Gruziya, civil.ge)

Interview With UN FAO's Erwin Northoff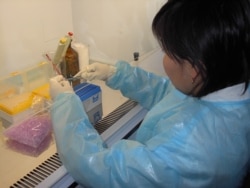 An expert at the National Virology Laboratory of the Kyrgyz Health Ministry (courtesy photo)
GETTING READY: Many have expressed concern about the ability of Central Asian countries to come to grips with a possible bird-flu outbreak. RFE/RL Turkmen Service correspondent Muhammad Tahir spoke with Erwin Northoff, news coordinator for the UN's Food and Agriculture Organization (FAO), about the issue. ....(more)