Georgian President Mikheil Saakashvili on 26 February declared a state of emergency in Adjara after local laboratories detected bird flu in dead swans found in the Black Sea coastal village of Adlia.
Local veterinary officials said the birds died of the H5N1 strain of the virus that is potentially fatal to humans. Samples have been sent to laboratories in London and Venice for official confirmation.
Authorities have ordered the killing of all domestic fowl within a 3-kilometer radius of the village where the dead swans were found. They are also confiscating hunting weapons to prevent hunters from possibly touching sick birds.
H5-type bird flu has also been tied to fresh bird deaths in southern Russia.
Pakistan says it has also detected bird flu in the country's northwest border region with Afghanistan.
(compiled from agency reports)
Affected Areas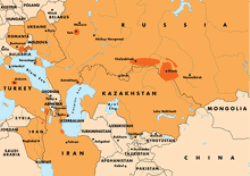 Click on the map for a closer view of the areas within RFE/RL's broadcast region where cases of diseased fowl have been confirmed. Last updated on February 20.


BIRD FLU, or avian influenza, continues to menace scattered areas from East Asia, where the disease first appeared, to Southeastern and Eastern Europe and beyond. Authorities around the world are bracing themselves -- and, more importantly, planning and taking measures to fight the disease wherever it appears.
Stories Of Particular Interest:
Bird-Flu Expert Discusses Issue Of Migratory Birds
Bird Flu: As European Worries Grow, Some See Benefits In Alarm