PRAGUE, 26 February 2006 (RFE/RL) -- Bird flu continues its march across the world.
In Georgia, the government ordered the culling of all domestic poultry in 11 villages in the Adjara region within a 3-kilometer radius of a lake where dead swans infected with avian influenza were found on 24 February.
At a poultry market in Tbilisi, the Georgian capital, stall holders said sales had plummeted. A chicken seller named Rusudana told Reuters that people are afraid to eat chicken.
"Customers come, but don't buy anything, they are afraid they will get sick and die," she said. "But we have to kill birds, to clean them, cut them, for us it's much more dangerous."
Bird flu appears to be spreading rapidly among poultry and wild birds in the EU. A fourth German state said on 25 February that a wild duck and a swan found dead had tested positive for bird flu.
The dead birds were found on the outskirts of the city of Schwedt, near the border of Poland, according to a spokesman for the Agriculture Ministry in the eastern state of Brandenburg.
Most of the dead birds found in Germany so far, 114 altogether, were in the Baltic coast state of Mecklenburg Vorpommern, the majority on the island of Ruegen. The Mecklenburg-Vorpommern state agricultural minister, Till Backhaus, said inspections would be increased and additional measures taken.
"We will further increase inspections of animal keepers," he said. "Each visible head that's sticking out of the barn, those livestock will be killed."
Also on 25 February, German Defense Minister Franz-Josef Jung visited his troops currently stationed on Ruegen and in charge of assisting in the search for further dead birds. The German army sent some 250 soldiers to this resort island last week after local authorities asked for help.
Asian Outbreaks
Bird slaughter also continues in India. Health authorities in India's southern state of Kerala culled thousands of ducklings on 25 February, smuggled in from neighboring Tamil Nadu state for sale, barely a week after the world's second-most-populous country reported its first infection of the H5N1 strain of bird flu in poultry in western Maharashtra.
"There was a possibility of those duckling going to different destinations in the state. So we had no option but to cull them and destroy them," the director of animal husbandry for the Kerala government said. "So I hope that such incidents will not be repeated. This is our uniform policy, if any consignment is discovered from across the border without certification, we have standing instructions to all the department officials to immediately cull the consignment."
Meanwhile, Chinese Agriculture Minister Du Qinglin has warned of a possible "massive bird-flu outbreak" as the country announced two new human cases of the H5N1 strain, raising to 14 the number of human infections reported since October.
Du said that outbreaks in poultry occurred last year in 32 areas throughout China, killing 163,100 chickens, ducks, and other fowl.
The H5N1 strain of the virus has killed more than 90 people worldwide since 2003, mostly in Southeast Asia and China. Victims contract the virus through close contact with infected birds. Experts fear it is only a matter of time before it changes into a form that passes easily between humans, sparking a pandemic in which millions could die.
Affected Areas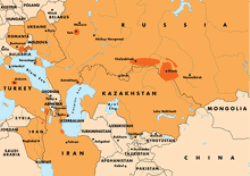 Click on the map for a closer view of the areas within RFE/RL's broadcast region where cases of diseased fowl have been confirmed. Last updated on February 20.


BIRD FLU, or avian influenza, continues to menace scattered areas from East Asia, where the disease first appeared, to Southeastern and Eastern Europe and beyond. Authorities around the world are bracing themselves -- and, more importantly, planning and taking measures to fight the disease wherever it appears.
Stories Of Particular Interest:
Bird-Flu Expert Discusses Issue Of Migratory Birds
Bird Flu: As European Worries Grow, Some See Benefits In Alarm