China Reports New Human Bird-Flu Cases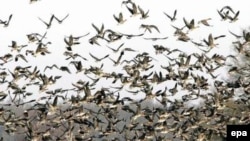 (epa) 25 February 2006 -- The Chinese government today reported two new human cases of the potentially deadly H5N1 strain of the bird-flu virus.
The Health Ministry said the cases involve a 9-year-old girl and a 26-year-old woman. The girl lives in the southeastern coastal province of Zhejiang and the woman is a farmer from Anhui province in the east.

The report didn't say whether the woman worked with poultry or how the girl might have become infected.

The announcement raised the number of human cases of bird flu reported on China's mainland to 14 since October, with eight deaths.

Also today, the European Union urged its trading partners not to overreact to an outbreak of bird flu in France after Japan suspended all French poultry imports and threatened a similar ban on the Netherlands.

Meanwhile, the Georgian government ordered the slaughter of all domestic poultry within a 5-kilometer radius of the village of Aldia in the province of Adjara following discovery of the disease.

(compiled from agency reports)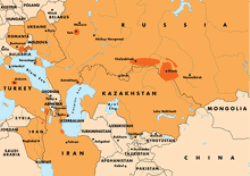 Click on the map for a closer view of the areas within RFE/RL's broadcast region where cases of diseased fowl have been confirmed. Last updated on February 20.


BIRD FLU, or avian influenza, continues to menace scattered areas from East Asia, where the disease first appeared, to Southeastern and Eastern Europe and beyond. Authorities around the world are bracing themselves -- and, more importantly, planning and taking measures to fight the disease wherever it appears.
Stories Of Particular Interest:
Bird-Flu Expert Discusses Issue Of Migratory Birds
Bird Flu: As European Worries Grow, Some See Benefits In Alarm