The Iranian state news agency IRNA quotes the minister as saying that, if the nuclear case is politicized, the international community would be harmed more than Iran.
He noted that Iran is rich in energy resources, and has control of "the most sensitive energy route of the world" -- a reference to the Straits of Hormuz in the Persian Gulf.
German Foreign Minister Frank-Walter Steinmeier called on March 11 for a diplomatic solution to the standoff, and he urged Tehran to cooperate with the UN.
The United States has rebuffed a Russian proposal to hold crisis talks on Iran prior to any action by the UN Security Council. It says the next round of talks on Iran would be those at the council next week.
(compiled from agency reports)
What The Street Thinks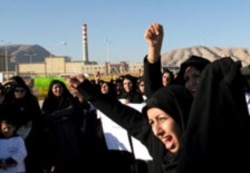 A demonstration in support of Iran's nuclear program outside the Isfahan uranium-conversion facility in Isfahan in January (epa)

IRANIANS SPEAK OUT ON THE DISPUTE: To find out more about what Iranians think about the international controversy over their country's nuclear program, RADIO FARDA asked listeners to express their views....(more)
See also:
Iran: Public Has Mixed Feelings On Nuclear Issue

THE COMPLETE PICTURE: RFE/RL's complete coverage of controversy surrounding Iran's nuclear program.
CHRONOLOGY
An annotated timeline of Iran's nuclear program.