Poland Reports Second Case Of Bird Flu
Polish health officials in protective suits pass swans at the banks of the River Vistula in Torun, March 5. (file photo) (epa) March 11, 2006 -- Poland today reported a second case of bird flu.
Poland's chief veterinary doctor, Krzysztof Jazdzewski, said the H5 virus was detected in a wild swan whose body was found in a national park near the German border.
Jazdzewski said further tests would help determine whether the bird was carrying the H5N1 strain, which poses a potentially deadly threat to humans.
Poland reported its first case of bird flu on March 6, when the H5N1 strain was detected in three swans whose bodies were found on the banks of the Vistula River in the central city of Torun.
So far, 10 European Union countries have reported cases of bird flu.
Greece said on March 11 that another four wild swans had tested positive for the H5N1 strain, bringing the number of infections in the country to 30.
(dpa, AFP, AP)
Interview With UN FAO's Erwin Northoff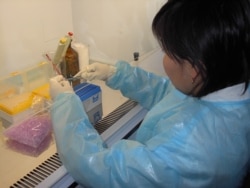 An expert at the National Virology Laboratory of the Kyrgyz Health Ministry (courtesy photo)
GETTING READY: Many have expressed concern about the ability of Central Asian countries to come to grips with a possible bird-flu outbreak. RFE/RL Turkmen Service correspondent Muhammad Tahir spoke with Erwin Northoff, news coordinator for the UN's Food and Agriculture Organization (FAO), about the issue. ....(more)