Azeri Man Dies Of Suspected Bird Flu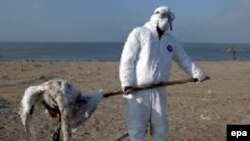 A sanitary worker collects wild birds that died of avian flu in February at the Caspian Sea shore, about 40 kilometers from Baku (epa) March 10, 2006 -- Health authorities in Azerbaijan say a man died of pneumonia and respiratory failure today, shortly after he was hospitalized for suspected bird flu.
The 16-year-old lived in a village of Azerbaijan's Salyan district. Three residents of the same village have died of pneumonia in the past few days. Samples have been sent to Britain for bird-flu tests.
In neighboring Georgia, two young children who attended the same Tbilisi school have died of pneumonia in the past two days. The school was closed for the day.
Georgia's Health Minister Lado Chipashvili told Imedi television he believed the twin deaths were not caused by bird flu, but by another, very toxic virus."
(Turan, Day.Az, Imedi TV)

Interview With UN FAO's Erwin Northoff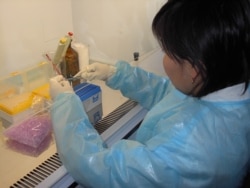 An expert at the National Virology Laboratory of the Kyrgyz Health Ministry (courtesy photo)
GETTING READY: Many have expressed concern about the ability of Central Asian countries to come to grips with a possible bird-flu outbreak. RFE/RL Turkmen Service correspondent Muhammad Tahir spoke with Erwin Northoff, news coordinator for the UN's Food and Agriculture Organization (FAO), about the issue. ....(more)